A simple, sophisticated service where users can design
benefits based on their interests
Today's workforce is made up of individuals so why should their benefits look the same? 
Benepeak is a benefit solution for any size company, from sole-owner incorporations to larger corporations. 
We offer tailor made benefits which maximize your employees' health and happiness while minimizing associated taxes and your bottom line. 
Talk about peak performance!
Meet Your Health Spending Account
A Health Spending Account (HSA) is a non-taxable plan that helps employers turn healthcare costs into business expenses while empowering employees to individualise their benefits flexibly.
Empower individuals towards healthier and happier lives.
At Benepeak, Health Spending Account (HSA) keep cost control in the employer's hands while empowering employees to individualse their health and dental benefits, But better benefits are just the beginning for business owners and employees.
Individuals are at the heart of your business.
At Benepeak, we empower them to lead healthy lives.
Do you want your employees receive maximum benefit without increasing the premium? you can add Wellness Spending Account into your plan as well.
Have we peaked your interest?
Sole owner businesses do not qualify for traditional group insurance plans but with an HSA they can reduce their taxes by claiming personal health and dental expenses as business expenses.
Companies with employees can't get group insurance but with an HSA, employees can access flexible health and dental benefits while helping their employer keep business taxes and associated costs down
HSA's compliment group insurance for multi-generational workforces. Employees of any age can cover their group insurance deductible and health expenses with a prepaid credit card linked to their HSA.
AI generated reports that help you understand your clients, trends, and revenue sources more clearly.
With commission based revenue, you'll be just as satisfied as your customers.
Increase your clients' buying power and upselling through the use of artificial intelligence!
Benefits that are unique, like you! Take a pic, make a claim, and track your refund in real time.
It works like this: employees (and their eligible dependents*) receive an allowance each year that is set by their employer. Using the Benepeak app, employees choose how they want to spend these funds and can tailor their benefits to their lifestyle.
Dylan's employer provides them with a $3000.00 annual allowance in their Health Spending Account (HSA). Here's how Dylan can submit their claim with the Benepeak app.
A specific amount of coverage is allocated to each employee by the employer.
Step one
The employee pays for the service.
Step two
On the employee's app, they take a photograph of the receipt and submit it for reimbursement
Step three
Upon approval of the claim, Benepeak will withdraw the claim amount plus the administration fee from the company, and pay the claim amount to the employee's bank account.
Step four
The company admin will receive a receipt from Benepeak to claim the total amount as a company expense
Step five
BENEPEAK
Your Benefit at New Heights
⦁ A clean user-interface and easy to use platform

⦁ Customize your benefits to suit your lifestyle

⦁ AI which ensures peak performance from your benefits
Benepeak is a health/wellness employee benefits solution, offering custom coverage for businesses and families. We provide innovative, human-centric solutions, with focus on simplicity and customizability, in order to ensure peak benefits for each user. Our simple platform helps clients customize their plan to maximize their benefit, regardless of their level of financial or technical savvy. Using our simple yet sophisticated, AI powered, platform we empower users to be in control of their finances, health, and wellness.
We address the need for individually curated and flexibile benefits for today's workforce because boosting wellbeing benefits us all. Beneapeak is a full-fledged software package to help you create and manager supplemental health insurance.
Our Package Includes the Following: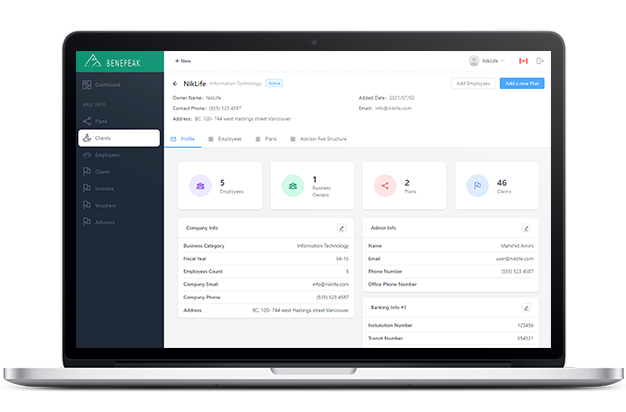 Admin Dashboard
Our sophisticated dashboard lets users manage their insurance, claims, and workflow simply.
Mobile App
Our app lets users create, manage, and send their claim to insurance companies for approval with the touch of a button. With Benepeak's AI, we review 100% of claims expediently and approve them just as quickly.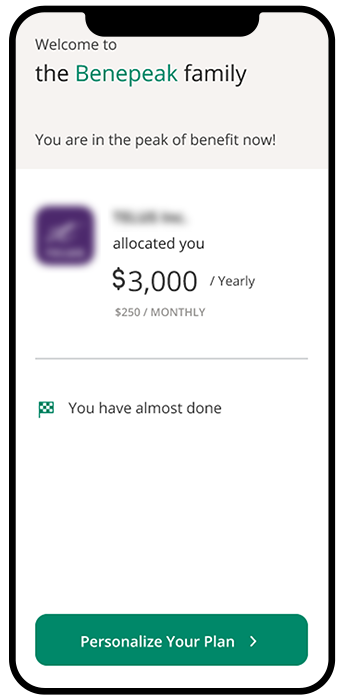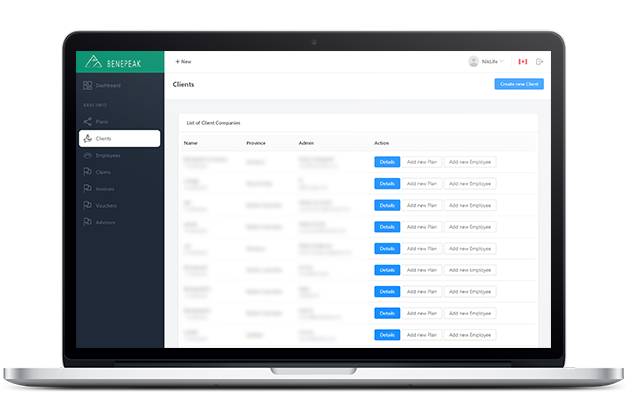 Web App
All the features of our mobile app are available on our web app. Whether you're on your computer, tablet, or phone, Benepeak is ready to help you build better benefits.